Sean Aidan photographer
Latest News
You Couldn't Make it Up
Not so long ago I had a call from a magazine editor – he seemed stressed – it was a magazine I had worked for before – the conversation went something like this…
"Hey, Sean, how are you?
"Hello, I'm good thanks, how can I help?"
"Well, we've got this shoot coming up, soon, next week actually! It's all sorted, all arranged, but the new intern in the office forgot to book a photographer, ha-ha can you believe that?"
"Yes."
"Ok, so anyway, thought I'd reach out to you, sorry it's such short notice but I'm hoping you can help us out."
"Ok, can you give me a few more details please?"
"We have a new advertiser coming on board, it's a big spend, they've taken two pages and the back cover in next month's edition. They've supplied us with lots of great product shots. Oh, bye-the-way they've launched a new range of make-up. Anyway, we have lots of great shots for the advert and some copy about their ethically sourced products, but, but… no actual shots of a model using and applying any of the make-up, so we were hoping you can shoot some stuff, we probably only need half a dozen shots but it has to be a real model actually using the product, not an AI generated clone or a generic stock photo."
"Yes, I think I'm free, no worries I can do it for you."
"Hey buddy! That's cool, great stuff, Tracey works in the design team, she's volunteered to be the model, and I've booked a really great location – we've pushed the boat out on this one bud – it really is a fantastic place for a shoot."
"Ok, great, send over the details and I'll see you there."
"I can't make it but someone from the team will be there plus a stylist and MUA."
"Ok, I'll send the shots back directly after the shoot so you can make the deadline."
"Ice cool mate."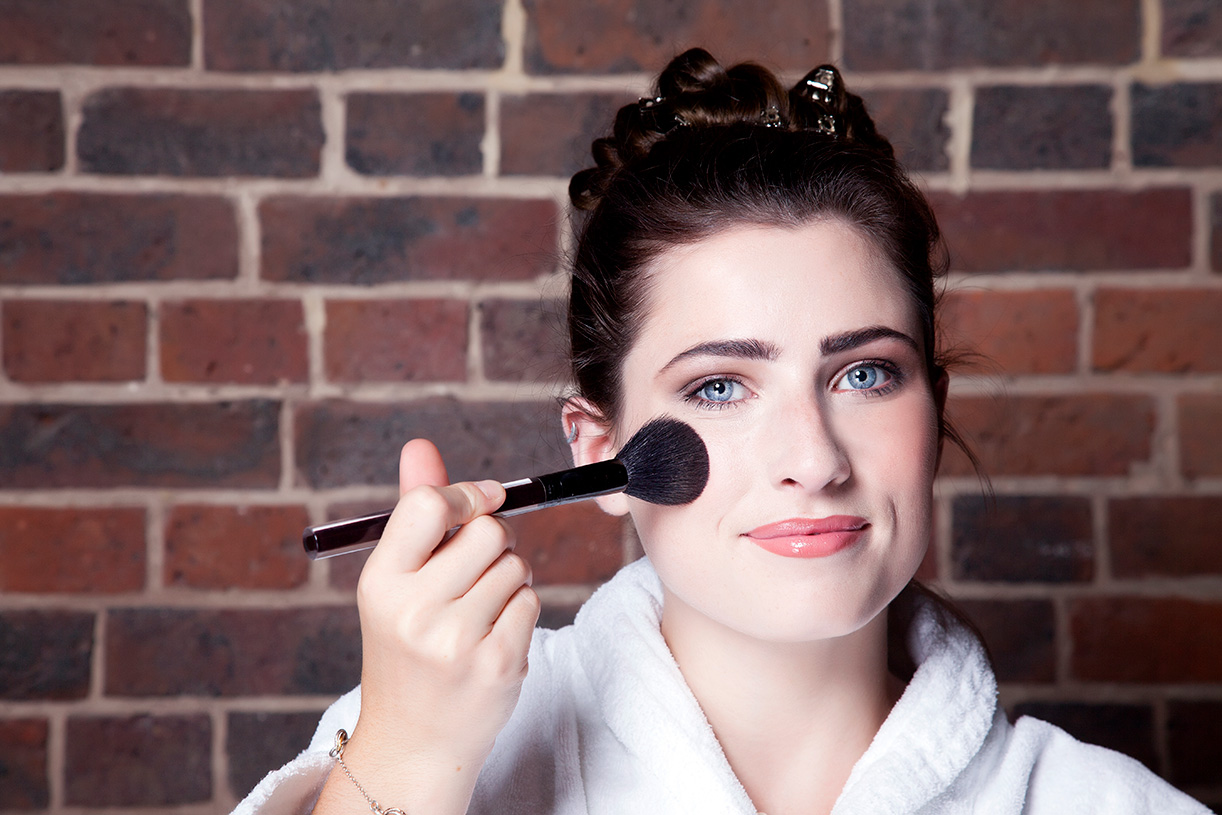 I won't name the magazine but let's say it was a prestigious life-style magazine entirely paid for by advertising, there was no cover price, a freebie giveaway, but none the less the production values were quite high and it had a high pick-up rate, so it would be good for me to have my work featured in it.
I packed my bag – Canon 5D mark 4 camera, plus a back-up camera in the car, 2 lenses 50mm F1.2 and 85mm F1.2 and one light placed directly above my shooting position, I probably shot at around F8 – F11 and 200th sec with the light set on 4 or 5 just below half power. One light as in an EBL 400 and a HSS – high speed sync and fitted with a beauty dish + reflector to cancel out those annoying shadows under the eyes and eyebrows. And lots of memory cards and batteries.
The stylist met me at the location a high-end luxury hotel not far from where I live. The stylist carried one of my bags – always a plus – and I followed her into the "great location" an empty room in the basement of the hotel! A room devoid of any interesting features, a blank, empty room used for storage.
The "model" looked good but through no fault of her own she had absolutely no idea what she was doing. The stylist had placed the model in front of a brick wall! I asked the stylist and MUA if they were sure about placing the model in front of a boring, nondescript, unrelated brick wall! They both said it would look great, so I went ahead and took the shots they needed.
They seemed very happy with the shots as they could see the results on my laptop as I took the shots. We all packed up and everyone went their separate ways. However… as I packed my camera away, I thought… did I really want my name next to shots of a model posing in front of a brick wall?
No, definitely not.
The hotel had a really nice, well-appointed gym and spa area for hotel guests to use, I asked the marketing manager if it would be ok to take some shots of the spa areas for possible use in the magazine – they said yes, of course, feel free to shoot what you need.
The spa area was empty on the day and we could have used it for the shoot – but no one asked.
I used some of my shots for backgrounds and created some composite images. I sent a series of both shots – with and without the backgrounds to the magazine. They used the shots without the wall. "Pushed the boat out" really? Probably a very small dingy! Brick wall… what were they thinking?